Minimally Invasive Surgery
Aspirus Heart & Vascular is a leader in utilizing minimally invasive surgical techniques to repair or replace diseased heart valves.
When surgery is the chosen plan of action, minimally invasive options are preferred due to the advantages it offers. With minimally invasive heart surgery, a variety of smaller incisions are utilized to gain access to the heart and valves. Minimally invasive valve surgery reduces blood loss, scarring, and length of hospital stay. Additionally, the patient's breastbone is not completely divided, substantially minimizing recovery time.
Hospital stays for minimally invasive surgery are typically 1 to 2 days shorter than traditional valve surgery. Minimally invasive valve surgery also causes less pain and has a lower risk of infection. Recovery time is usually significantly shorter at 4 weeks versus 8-12 weeks for traditional surgery.
Click here to watch HealthBeat 7 about Advanced Mitral Valve Surgery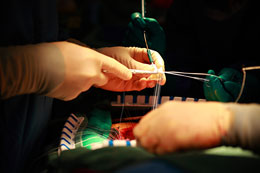 Minimally invasive incision - Click here to view image of minimally invasive incision
Mitral Valve Repair Surgery
Featuring Ronald Miles, M.D.
The Valve Center of the Aspirus Heart & Vascular is the region's only provider that offers minimally invasive mitral valve repair surgery.